Kugler-Bourgine

Domaine des Tourniers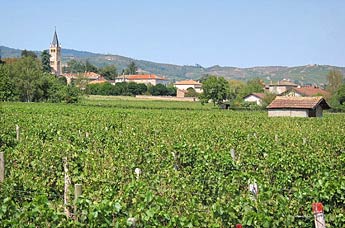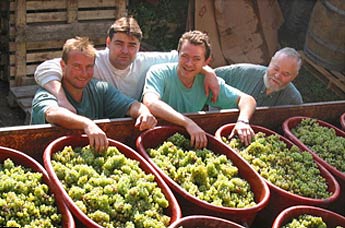 A toe in the ...vineyard!
Because a few weekends spend grape picking with mates aren't enough……
Because passion needs to be tested on the ground……
Because putting ideas into practice is a dream but also a humbling one……
Because a promise is a promise……
Because we have the same set of values……
We have decided, together with Marc-Henri Kugler to take over the family estate of the Tourniers at Lancié.

Working the soils and or grassing since 2000, cutting out fertilisers, reasonable yields, studying vineyard work, (pruning, leaf management, harvesting dates) winery work, all these have been and will continue to be, subjects of study.
Our production :
- B.de Lancié blanc - White Beaujolais (vat & barrels)
- B.de Lancié rosé - Rosé Beaujolais (vat)
- Les Louves blanc - White Bourgogne (fermentation and aging in barrels)
- Les Louves rouge - Chénas (100 % pressed, malo and aging in barrels)
- Chénas Domaine - Chénas (vat & barrels)
- 52 AV JC - I.G.P. - gluggable gamay (vat)
- Côteaux bourguignons - (vat & barrels)

Distributors: Please ask
- Internet: Caves de la Halle On-line Shop

Home page